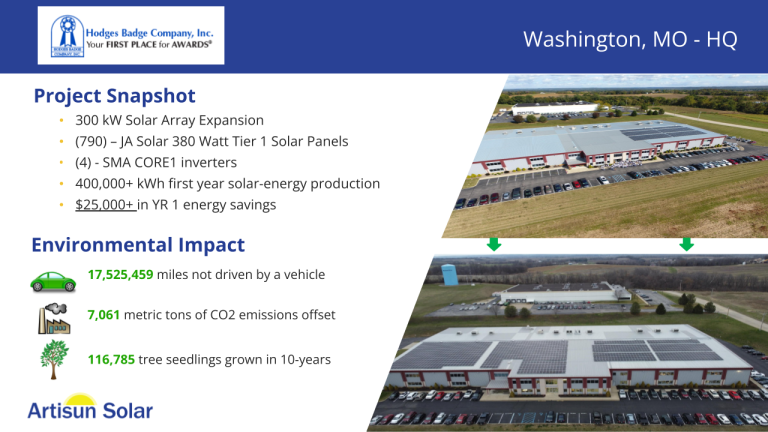 Hodges Badge Company, a leading manufacturer of custom-made ribbons,
medals, and awards, has recently installed a 300kW solar array at their facility in Washington, Missouri. The company received a USDA grant and an Ameren solar rebate that covered over 90% of the project cost. Installing this solar array is another significant step towards Hodges Badge Company's goal of becoming more environmentally sustainable while reducing energy costs.
The 300kW solar array is expected to generate more than 400,000 kilowatt-hours of electricity annually, enough to power approximately 40 homes annually. The solar panels are installed on the roof of the company's 70,000-square-foot manufacturing facility, which houses its production facilities, warehouse, and offices. By utilizing this renewable energy source, Hodges Badge Company is reducing its dependence on traditional energy sources and helping to reduce its carbon footprint.
The USDA grant and Ameren solar rebate have made the installation of the solar array possible. The USDA's Rural Energy for America Program provides financial assistance to agricultural producers and rural small businesses to install renewable energy systems and make energy efficiency improvements. The Ameren solar rebate program is designed to encourage businesses and homeowners to install solar panels by providing a rebate for a portion of the project's cost.
By installing the solar array, Hodges Badge Company will save over $25,000 in the first year of operation. This is a significant cost savings that will continue for many years to come. The energy generated by the solar panels will offset a significant portion of the company's energy consumption, reducing their reliance on traditional energy sources and lowering their energy bills.
In addition to the financial benefits, the installation of the solar array is also a significant step towards reducing Hodges Badge Company's environmental impact. By utilizing a renewable energy source, the company is reducing its greenhouse gas emissions, contributing to a healthier environment for future generations.
Installing the 300kW solar array is a great example of how companies can become more environmentally sustainable while reducing their energy costs. With the help of grants and rebates, businesses can make significant investments in renewable energy systems that pay off in the long run. Hodges Badge Company's commitment to sustainability and energy efficiency is commendable, and we hope that more companies will follow their lead in the years to come.